Government makes revised pay offer to health unions, reports say – UK politics live | Politics
Key events
Sinn Féin criticised after Irish unity adverts appear in US newspapers
Sinn Féin's US fundraising arm has caused a row by calling for a referendum on Irish unity in adverts in the New York Times, Washington Post and other US publications.
The half-page ads were paid for by Friends of Sinn Fein and ran on Wednesday urging support for unity referendums in Northern Ireland and the Republic of Ireland. "It is time to agree on a date," it said. "Let the people have their say."
They coincided with the annual migration of political leaders from Ireland, north and south, to New York and Washington to network with US politicians while celebrating St Patrick's day.
The taoiseach, Leo Varadkar, expressed concern at the adverts coming at what he termed a "sensitive moment" in efforts to restore power-sharing in Northern Ireland.
The Democratic Unionist party leader Sir Jeffrey Donaldson accused Sinn Fein of focusing on a "divisive border poll campaign" that stoke further polarise Northern Ireland.
The Sinn Féin leader, Mary Lou McDonald, played down the significance of the move. She told PA Media:
They're ads from Irish American organisations whose view on reunification is well known and held for a very long time and they take out ads every year. So, the focus now needs to be on getting back to work [at Stormont].
Hunt is helping rich instead of helping people into work, says IFS
The IFS director Paul Johnson also said that abolishing the cap on tax-free pension savings "probably won't play a big part, if any" in increasing the number of people in work, my colleague Richard Partington reports.
In his presentation Johnson said:
One policy that probably won't play a big part, if any, in increasing the number of people in work, is the increase in the pension tax annual and lifetime allowances. Even on OBR's, in my view optimistic, assumptions this will come in at £100,000 per job. There is a case for allowing people to save more in a pension, even if those who gain will generally be on high incomes up to £250,000 a year or more. While it was sensible to accompany this change with a limit on the size of the tax-free lump sum to 25% of the existing lifetime allowance, it was disappointing that other over-generous aspects of pension taxation – not least complete freedom from inheritance tax – were not reined in. The lack of any coherent strategy here remains deeply disappointing. Don't forget these changes are largely a rowing back on changes made just a few years ago by this government.
Households face 'continuing pain' with their finances, regardless of budget measures, IFS says
People are going to feel "continuing pain" with their finances regardless of the measures in yesterday's budget, the Institute for Fiscal Studies says.
Paul Johnson, director of the IFS, delivered a bleak verdict in his opening presenation at the start of the IFS's briefing on the budget. He said:
What households are going to feel over the next year will be continuing pain. Inflation may be coming down, but prices remain much higher than two years ago. Earnings haven't caught up. The freezing of income tax and NICs allowances and thresholds will cost most basic-rate taxpayers £500 next year and most higher-rate payers £1000. The OBR may be relatively optimistic about the medium term, but it still thinks these will be the worst two years on record for household incomes. Its projections suggest that real household disposable incomes will be no higher in 2027 than they were in 2019, and barely higher than in 2017 – a lost decade for living standards.
Ambulance handover delays outside hospitals in England have risen to their highest level since the start of the year, PA Media reports. PA says:
About 28% of patients waited at least half an hour last week to be handed to A&E teams, up from 23% the previous week, according to NHS data.

Around one in eight (12%) patients waited over an hour, up from around one in 11 (9%).

These are the highest figures since the first week of January, when 36% of patients had to wait at least 30 minutes and 19% waited more than 60 minutes.
Government has made revised pay offer to health unions, reports say
The government has made a revised pay offer to unions representing nurses, ambulance staff and other health workers, Sky News is reporting. It says an announcement is expected this afternoon.
Cabinet Office minister Oliver Dowden set to announce TikTok to be banned from government phones
TikTok will be banned on government phones after security concerns were raised about use of the Chinese-owned app, PA Media reports. Oliver Dowden, the Cabinet Office minister, is expected to announce the move in a statement to MPs at lunchtime. PA says:
Security minister Tom Tugendhat had asked chiefs at the National Cyber Security Centre to review the video-sharing app.

Rishi Sunak has been under pressure from senior MPs to follow the US and EU in banning TikTok from government devices.

Earlier this week, he said the UK will "look at what our allies are doing", with Washington and the European Commission already banning the social media platform from staff phones.

TikTok said bans had been based on "misplaced fears and seemingly driven by wider geopolitics", saying it would be "disappointed by such a move" in the UK.

The move is also likely to anger Beijing, which has accused the US of spreading disinformation and suppressing TikTok amid reports the White House is calling for its Chinese owners to sell their stakes.

The UK's science and technology secretary, Michelle Donelan, on Wednesday said the public can continue to use the app if they want.

"In terms of the general public, it is absolutely a personal choice. But because we have the strongest data protection laws in the world, we are confident that the public can continue to use it," she told the Commons.

TikTok has long said it does not share data with China, but Chinese intelligence legislation requires firms to help the Communist party when requested.
Hunt claims it is 'bizarre' to describe budget as giveaway for rich
Here are some more lines from Jeremy Hunt's morning interview round.
Hunt claimed it was "bizarre" to describe the budget as a giveaway for the rich in light of all the support going to people dealing with the cost of living crisis. Asked about this on Times Radio, he replied:
I think it is a rather bizarre thing to say that when this is a set of measures that means in two weeks' time we are going to be spending a total of £94bn this year.

[It is] a huge amount of money: giving around £3,000 of cost-of-living support to a typical household, including uprating benefits with inflation, [and] one-off payments to people on low incomes of up to £900.
Yesterday the Treasury published a distributional impact analysis to go with the budget. It contained seven graphs, all of which showed measures benefiting the poorest households the most (making them progressive, by definition). But none of them analysed just the changes announced in yesterday's budget; instead they included all measures from the autumn statement last year, all measures from the spending review of 2019, or the impact of the tax and benefit system as a whole.
Hunt claimed it was "impossible" to know how many doctors would return to work, or keep working, as a result of his abolition of the lifetime pensions allowance. He said he did not accept the estimate from the Office for Budget Responsibility that only 15,000 more people would stay in the labour force as a result. (See 9.01am.)
[Streeting] seems to have changed his mind overnight on that one. He said it was crazy and it would save lives to get rid of that cap. Well, he was right in September when he said that.
Labour said today it would "encourage doctors to stay in work by creating a targeted scheme as the government has done for judges, rather than create free-for-all for the wealthy few".
This is the biggest transformation in childcare in my lifetime.

It is a huge change and we are going to need thousands more nurseries, thousands more schools offering provision they don't currently offer, thousands more childminders.

We are going as fast as we can to get the supply in the market to expand.
He rejected the claim that his decision in the budget to include construction workers on the shortage occupation list, which will make it easier for foreign construction workers to get visas to work in the UK, was a betrayal of people who voted for Brexit to reduce immigration. When this was put to him, he replied:
People who voted for Brexit didn't vote for no immigration. They voted for control on migration …

But what those people who voted for Brexit want is an economy and economic model that does not depend on unlimited and unskilled migration. What those people want is to know that the government has a plan to remove the barriers that stop people working in the UK … That was the plan that I announced yesterday.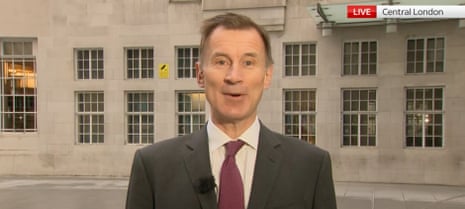 Hunt says he is 'hopeful' of reaching agreement with unions over pay for nurses and other NHS staff
As my colleagues Aubrey Allegretti and Denis Campbell report, ministers and health unions are on the verge of a breakthrough in talks to resolve their long-running pay dispute that has triggered a series of NHS strikes in England, with an announcement expected later today.
In his interview on the Today programme this morning, Jeremy Hunt said nothing to counter suggestions that a deal is imminent. He said:
We are having discussions, quite good discussions I think, with unions.

We've been very flexible about what we've been prepared to offer. The only condition we put on those talks is we can't give an offer that would itself fuel inflation and mean we are having the same discussions this time next year.
Asked if the government would be offering health workers more money, he replied:
We don't have an agreement yet, so I can't tell you what the quantum is.

I am hopeful we will have an agreement. I think we've had some very positive discussions but let's see where it ends up today.
But he did not rule out the government increasing the 3.5% pay rise proposed for health workers for 2023-24 in its submission to the pay review body. Asked if the government would offer more, he said:
All I will say is, if the government says we will do a different deal, we will find a way to pay for it. Yes, we would like to settle these disputes.
UK on track for 'disastrous decade' of income stagnation, says Resolution Foundation in budget analysis
The UK remains on track for a "disastrous decade" of stagnant incomes and high taxes, despite cuts to public services, the Resolution Foundation said in its analysis of the budget this morning. Here is the full report from the thinktank. And here is my colleague Phillip Inman's story.
Jeremy Hunt defends pension tax giveaway for rich, saying it will lead to people getting NHS operations more quickly
Good morning. Liz Truss's mini-budget self-destructed last year for many reasons, but the first element to get unpicked was the abolition of the 45p top rate of tax, a tax cut for the very rich. Labour is attacking Jeremy Hunt's budget in the same manner, attacking his plan to abolish the pensions lifetime allowance (the limit on how much can be saved tax-free) as a tax cut for the very rich.
Last night, in an interview with ITV's Peston show, Rachel Reeves, the shadow chancellor, said Labour would try to block this with a vote in the Commons next week.
I think this could unravel as quickly as it began. If you remember last September, Liz Truss tried to cut the top rate of tax from 45p to 40p; everybody kicked off about it.

Next week there will be a vote on this, Labour will force a vote on this next week. And I would say to Conservative MPs in places like Ashfield, or Bolsover, or Stoke-On-Trent, whose side are you on? Are you on the side of ordinary working people in your constituencies who are seeing their taxes go up, or are you going to vote with Rishi Sunak and Jeremy Hunt for a tax cut for the wealthiest in society?
This morning Labour said that, if it wins the next election, it will reverse Hunt's move.
Reeves and Hunt have both been giving interviews this morning, and Hunt has defended the policy, saying it will benefit the NHS because it will stop senior doctors retiring early because the existing pension rules are a disincentive. He told the Today programme:
We have a particular problem in the NHS. We have large numbers of doctors who are reducing their hours or retiring early. The Royal College of Surgeons say that 69% of their members have reduced their hours because of the way pension taxes work. We have a big backlog in the NHS and all of us depend on the NHS.

We need to do everything we can. This is a measure that we can deliver quickly. The British Medical Association … say that this will mean that doctors do not leave the NHS because of pension tax rules. I think that's very important.
The Office for Budget Responsibility said yesterday the policy would only lead to an extra 15,000 people staying in work. When this figure was put to Hunt, he said he did not accept it. He refused to give a figure for how many more doctors would stay in the workforce as a result of the pension allowance changes. But he said groups representing doctors insisted this would make a difference. He said:
We're spending £3bn a year in the NHS on locum doctors and agency nurses because of doctor shortfalls. If you ask doctors, they say this is one of the biggest reasons why consultants aren't available.

If you're asking what will have an impact on ordinary families up and down the country, it is getting their NHS operation done more quickly. And this is the simplest and quickest way to resolve that issue.
I will post more from the post-budget interviews this morning shortly.
Here is the agenda for the day.
9am: The Resolution Foundation holds a briefing to present its assessment of the budget.
9.30am: Tony Blair gives evidence to the Commons Northern Ireland affairs committee about the institutions set up by the Good Friday agreement.
10.30am: The Institute for Fiscal Studies holds its budget briefing.
11am: Keir Starmer is visiting a life science company in Edinburgh.
11.30am: MPs resume their debate on the budget.
I'll try to monitor the comments below the line (BTL) but it is impossible to read them all. If you have a direct question, do include "Andrew" in it somewhere and I'm more likely to find it. I do try to answer questions, and if they are of general interest I will post the question and reply above the line (ATL), although I can't promise to do this for everyone.
If you want to attract my attention quickly, it is probably better to use Twitter. I'm on @AndrewSparrow.
Alternatively, you can email me at andrew.sparrow@theguardian.com.